The Rhythm Hut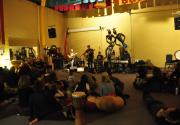 Website:

Street:

Unit 7/ 141 - 145 Erina Street

ZIP:

2250

City:

Gosford

State:

NSW

Country:
Description
The Rhythm Hut is the home of drumming on the Central Coast, a festival hidden inside of a factory.  Besides being the rehearsal space for the Australiasian Physical drumming group The Rhythm Hunters, the Hut is a music venue on most weekends and a drumming school during the week.  We teach classes in powerful Japanese Festival Drums and groovy African Hand Drums for all ages and stages of life, and have hosted such acts as Nick & Liesl, Rapskallion, Wild Marmalade, Sacred Earth, Rocwater, Captain Stu, and many more.
Come experience joy at a venue devoted to music, community, creativity, and inspiration.  Meet great people and passionate, supportive teachers with over 15 years experience. Located on the Central Coast in Gosford, with a drum shop of over 80 drums including indonesian log drums, Japanese taiko and African djembe, The Rhythm Hut offers a warm and friendly environment for all ages.  Be part of something wonderful!
If you have any questions, feel free to contact Steve, our Rhythm Hut Coordinator, at This e-mail address is being protected from spambots. You need JavaScript enabled to view it